IFEX CLIENTS
IFEX FIRE FIGHTING TOOLS USED BY CLIENTS IN OVER 60 COUNTRIES
:
Professional, volunteer, industrial and other fire fighting brigades, emergency teams, commercial fire protection organizations all over the world use IFEX in their daily work.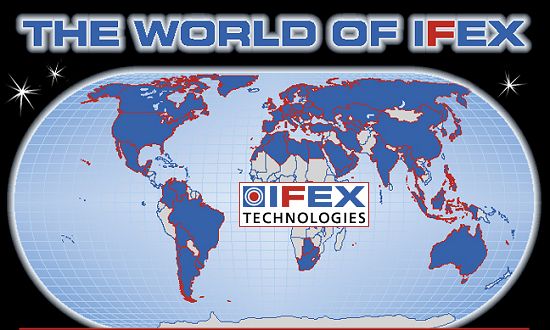 Algeria
Argentina
Aruba
Australia
Austria
Azerbaijan
Belarus
Belgium
Bolivia
Bosnia
Botswana
Brazil
Canada
Chile
China
Colombia
Czech Republic
Denmark
Egypt
Finland
France
Germany
Great Britain
Greece
Hungary
India
Indonesia
Iran
Italy
Japan
Kazakhstan
Kuwait
La Reunion
Lebanon
Libya
Malaysia
Mauritius
Mexico
Morocco
Netherlands
New Caledonia
Norway
Oman
Philippines
Poland
Portugal
Puerto Rico
Romania
Russia
Saudi Arabia
Singapore
Slovakia
Slovenia
South Africa
South Korea
Spain
Sweden
Switzerland
Thailand
Tunisia
Turkey
Turkmenistan
Ukraine
United Arab Emirates
United States
Uruguay
Uzbekistan
Venezuela
Yemen
If you wish, you may download the complete list of IFEX equipment users. This is only a partial database; if you use IFEX and are not in the list, please contact us.