THE FIRECOPTER
IMPULSE TECHNOLOGY AIRBORNE - THE FIRECOPTER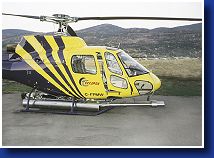 Forest, bush and wildland fires do occur frequently in inaccessible areas where the transportation of equipment and water supply is a difficult operation. While conventional technology uses airplanes and helicopters equipped with water buckets to drop the agent over the area on fire, the IFEX impulse fire extinguishing technology - mounted onboard fast and versatile helicopters - needs only small amounts of water to control and suppress the fire or prohibit it to propagate into other areas.
A similar problem for firefighters worldwide are fires in high rise buildings within city areas. Limited height of fire ladders and hydraulic booms makes the fire extinguishing process difficult and in many cases impossible. Utilizing the same application as for forest fires, the IFEX helicopter extinguishing gear presents the optimum solution and application for these situations.
THE FIRECOPTER SKID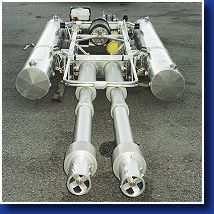 The extinguishing tool onboard the FireCopter skid is the IFEX 18 liter Dual Intruder; the high performance dual cannon with the necessary shot range, momentum and flux density to allow immediate control of the fire from a distance. The water supply is carried by two water tanks with extra additive tanks; more than 300 liters allow for a long and efficient field duration. Refilling can be done easily while airborne.
A motor driven compressor with a buffer tank gives unlimited air pressure to release the impulse shots. The IFEX FireCopter application can be fixed at the helicopter's cargo slinghook and stabilized at the landing gear within a few minutes.
The skid can be adapted to various models of helicopters upon request.

AIRBORNE INITIAL ATTACK
The IFEX FireCopter skid offers a significant contribution to conventional fire extinguishing technology and practice. It can be attached to different types of helicopters. With its high speed and independence from a supply infrastructure the FireCopter is the ultimate solution for an initial attack on any industrial or residential fire. The IFEX equipped helicopter is able to carry a three men crew plus their extinguishing gear.
The cannon tilt mechanism is easily operated by the pilot or copilot, with the impulse shot being triggered directly from the flight stick. A well trained pilot will easily be able to place his shots directly into the seat of the fire without any water spillage. For special operation requirements the helicopter will be equipped with an additional camera targeting system.
SYSTEM ADVANTAGES
Quick installation and removal - in less than 5 minutes

Ready to shoot as soon as airborne

18 liter cannons with 60 meters range (optimum at 40 meters)

Able to shoot any liquid agent (water, foam additive, retardant etc.)

No water source required at the fire location

Fast cannon recharge time (2 to 3 seconds)

Fast and easy water refilling while airborne
water capacity

2 x 155

liters

weight (without water)

350

kg

length x width x height

2960 x 400 x 200

mm

material cylinders and frame

Aluminum

AL 52

operating pressure

25

bar

speed of agent discharge

120 m/sec

high-speed valve opening time

20

milliseconds

water shot range

up to

60

meters

width of water shot spray

from

4

to

7

meters

effective extinguishing distance

up to

40

meters