ALL-PURPOSE FIRE TRUCK - THE
FIREHUNTER
THE FIRE TRUCK FOR ANY FIRE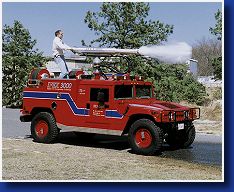 A rapid and strong firefighting vehicle, totally independent from continuous water supply, paved roads and the prevailing infrastructure which normally determines the scene for an effective fire fighting operation: The IFEX FireHunter has been developed for the special requirements of wildland and forest fires and since has proven how effective it is fighting urban and industrial fires, too.
With comparatively small amounts of water the high performance Dual Intruder cannons generate the impact to control or extinguish even large fires. So the IFEX FireHunter presents the ultimate solution for performing a fast and effective initial attack on structural, industrial, forest and wildland fires.
THE IFEX FIREHUNTER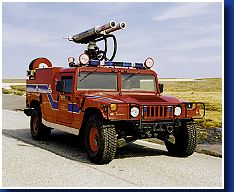 The IFEX FireHunter is based upon the Hummer all terrain vehicle; the legendary American all-purpose-truck which has the necessary power and mobility to ensure top performance under all circumstances. The Dual Intruder impulse cannons are mounted on top of the Hummer together with a 1000 liter water tank, a water pump and air cylinders. Additionally, two 1 liter impulse guns on 55 meter coaxial hoses are available for the firefighter's targeted attacks as on car fires or developing wildland fires.

THE DUAL-BARREL INTRUDER CANON
The IFEX Dual Intruder cannons consist of two 12 liter impulse cannons connected in parallel, thus allowing for a rapid shooting sequence: while one cannon is being charged, the other is ready to shoot.
The cannons are built coaxially - the water chamber with a shooting capacity of 12 liters is located inside the power chamber - and are provided with a pan and tilt mechanism for precise shooting in all directions.
The shooting and refilling is operated directly from the cannon handle bar; a remote control release mechanism is optional.
SYSTEM ADVANTAGES
Fast and nimble in urban or industrial structures
Ready to handle any terrain to get to forest, bush or wildland fires
No water source required at the fire location
12 liter cannons with 60 meter range (optimum at 10 - 40 meters)
Able to shoot any liquid agent (water, foam, retardant etc.)
Fast cannon recharge time (6 seconds)
Versatile in use with two additional

handheld guns
Water pump power

800

Liters/min at

6

bar

Water pump engine

2

cylinder / 4 stroke /

18

hp

Computer control system

PLC Omron Sysmac

Operating voltage

DC

12

V

or

24

V

High speed valve / piston

aluminum

F 52 /

titanium

Water gun grip and trigger

cast aluminum

Pan and tilt mechanism

carbon steel, pneumatic lock

Water / agent capacity

1000

Liters

Coaxial hose reels

2

hose reels, up to 100 m hose

Hose reel air supply

4 x 6

Liters

/ 300

bar

Intruder cannon water supply

4 x 20

Liters

/ 200

bar

Barrel dimensions (length / diameter)

1850 x 200

mm

Total skid weight (without water)

966

kg

Min / max agent per impulse shot

3 - 12

Liters

Agent velocity at muzzle

~ 120

m/sec

= ~ 450

km/h

Maximum shot length

64

meters